Case Study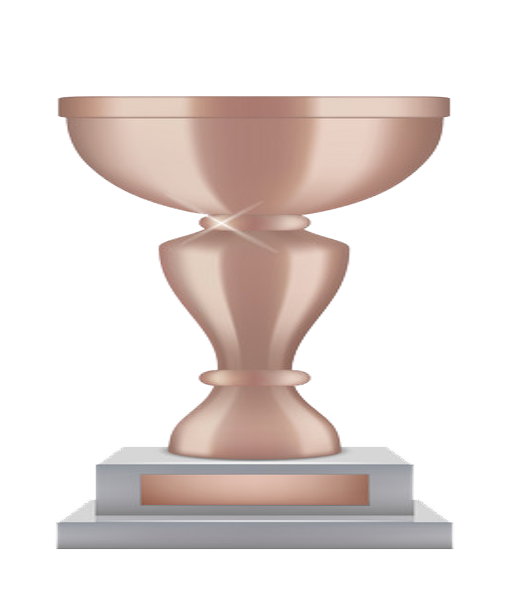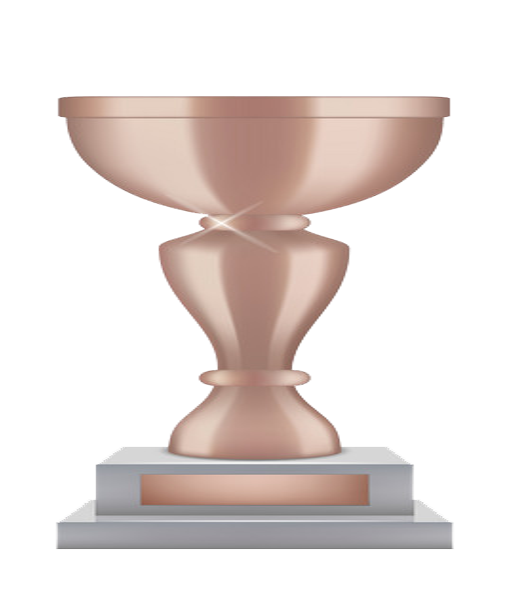 Introduction
Cadherin-1 is a protein that is encoded by the gene CDH1. Inherited inactivating mutations of CDH1 are associated with an increased risk of hereditary diffuse gastric cancer (approximately 70% life-time risk) and lobular breast cancer (approximately 40-50% life-time risk). Prophylactic gastrectomy and mastectomies are often recommended to reduce this risk (1).
The VAC Veraflo Therapy System combines negative pressure wound therapy and wound instillation with topical solutions for wound healing. The System allows for wound cleaning, removal of infectious matter and promotion of wound healing. It is primarily used for patients with open, infected wounds (2).
We describe a Case Report demonstrating a novel use of VAC Veraflo placed around a breast implant sizer in the treatment of a breast implant infection in a patient with a CDH1 mutation who underwent risk-reducing mastectomies with implant reconstruction 6 months prior to her wedding.
Case Description
A 36-year-old female with CDH1 gene mutation presented for bilateral risk-reducing mastectomies. Pre-operative clinical examination and medical imaging were both negative for any active breast disease. Past medical history included prophylactic total gastrectomy 3 years prior. There was no other past medical history. The patient was otherwise fit and well. She was due to be married in 6 months. On examination, the patient had B cup and non-ptotic breasts (Figure 1).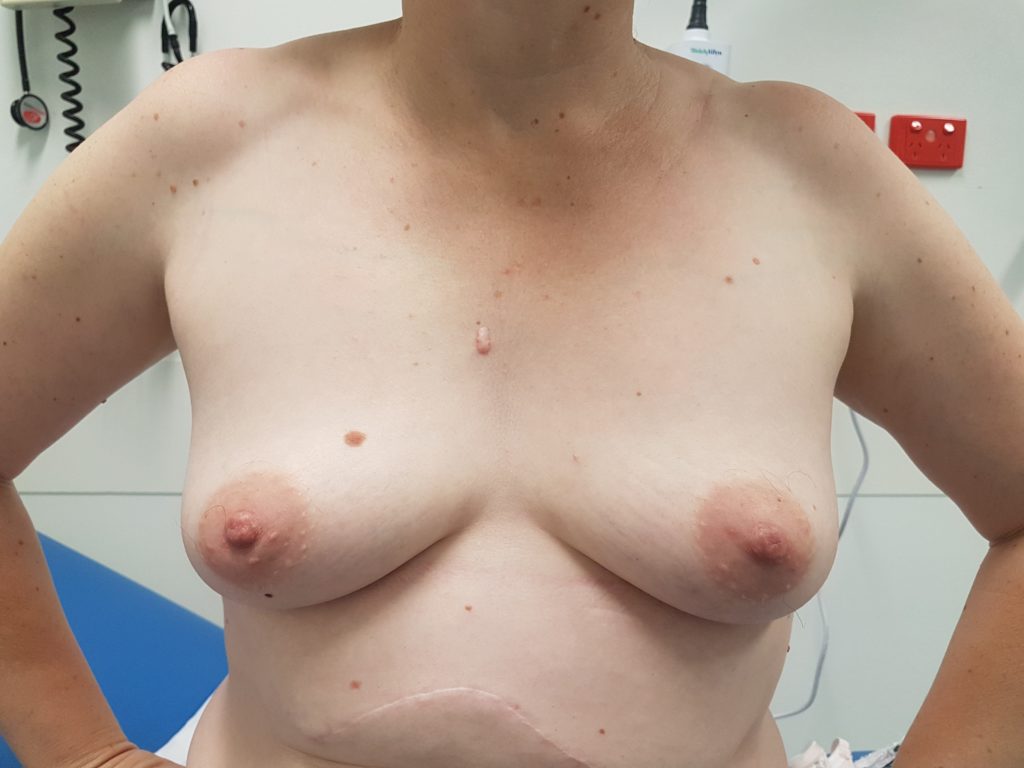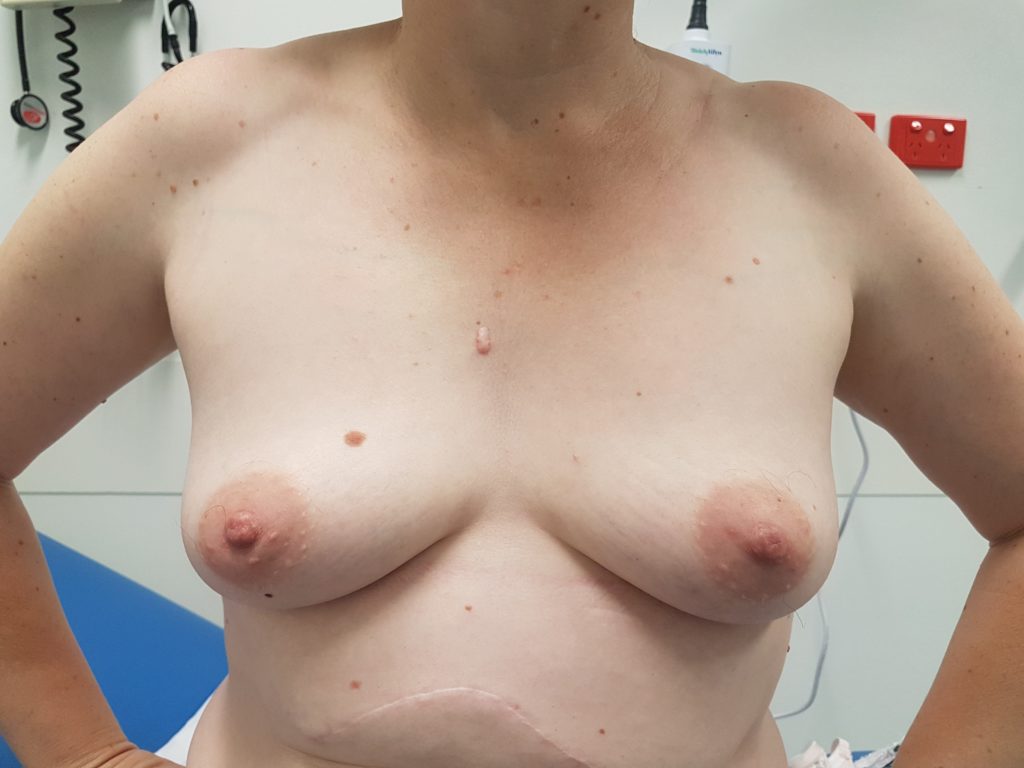 The patient elected for bilateral risk-reducing mastectomies with implant reconstruction. Bilateral nipple-sparing, subcutaneous mastectomies were performed with use of infra-mammary incisions and 420cc Mentor CPG 322 breast implants placed sub-pectorally with use of Tiloop mesh. Routine standard surgical and post-operative precautions were undertaken, including the use of prophylactic antibiotics and suction drains. The final histopathology was benign.
Four weeks post-operatively the patient presented systemically well but with signs of cellulitis including swelling, tenderness and erythema to the right breast (Figure 2). The left breast was unremarkable.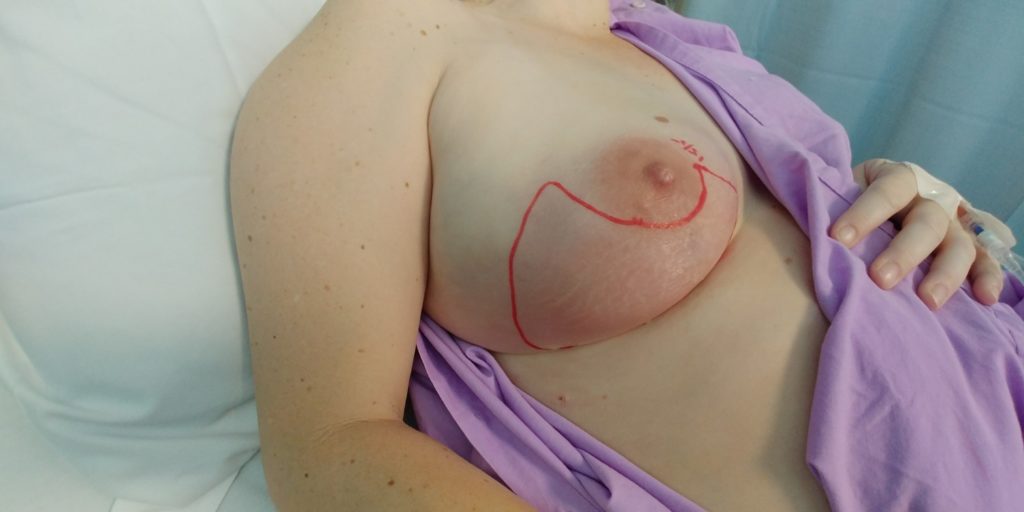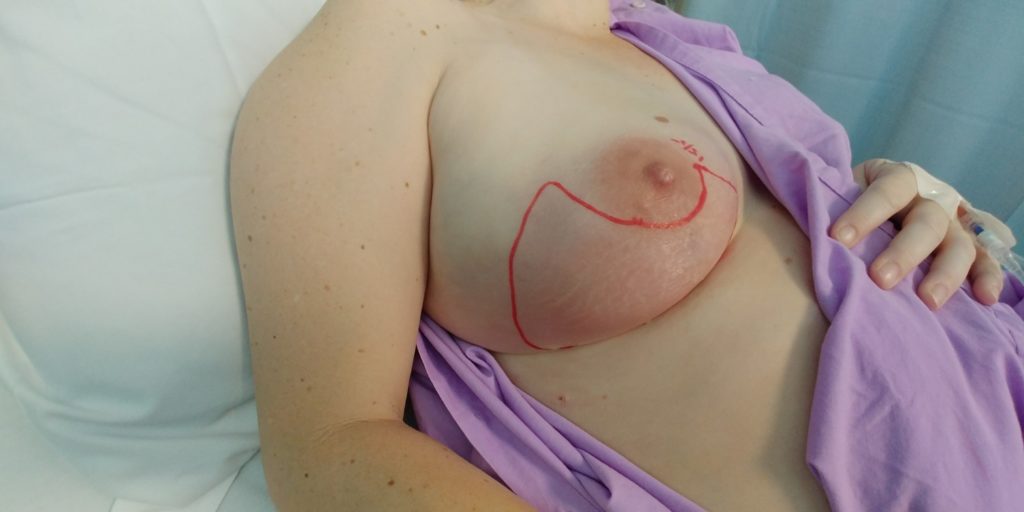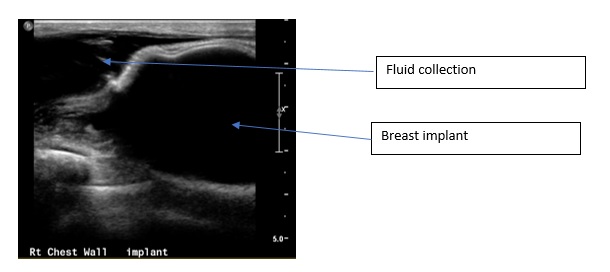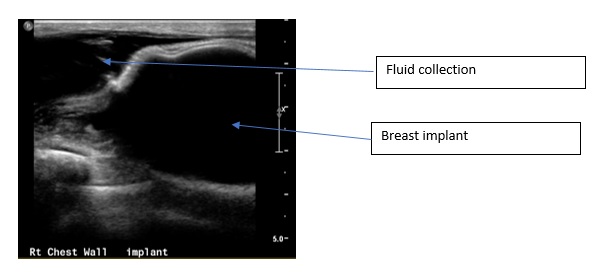 The patient was admitted to hospital, commenced on intra-venous antibiotics, and returned to theatre for right breast wound washout and removal of infected breast implant. Intra-operative wound swabs were taken and demonstrated growth of sensitive staphylococcus aureus. VAC Veraflo was wrapped around a 155cc Mentor CPG 321 breast implant sizer and placed into the wound (Figure 4). The VAC Veraflo was used to help facilitate treatment of the infection and to promote wound healing. The implant sizer was used to maintain the implant cavity space.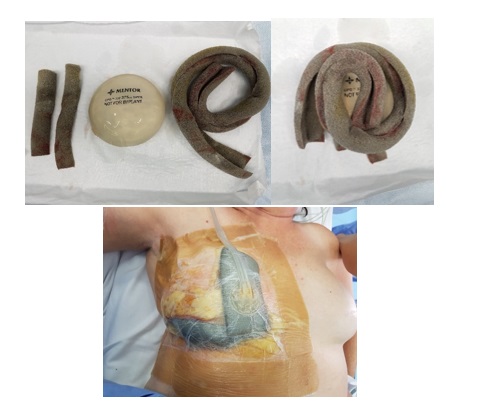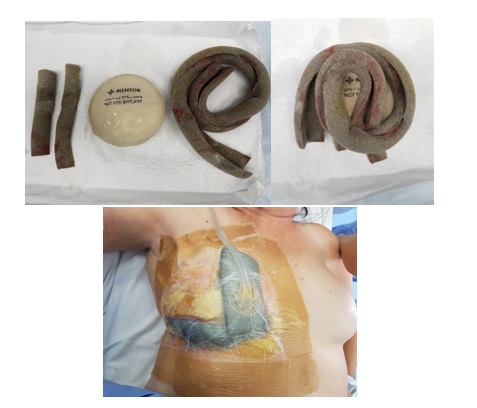 Over the proceeding 10 days, the patient returned to theatre a further 3 times for washout, wound swabs and exchange of the VAC Veraflo dressing around the sizer. On each return to theatre, the sizer was soaked in betadine prior to being wrapped in a new VAC Veraflo dressing and being returned to the cavity. After the third washout and with negative wound swabs and a clean cavity, the VAC Veraflo and sizer were removed and replaced with a subpectoral 450cc Mentor tissue expander. At the time of surgery, 250ml sterile normal saline was inserted into the tissue expander with the remaining filling occurring at the Breast Clinic in the following 2 weeks. The patient was discharged home on day 1 following her surgery on a course of oral antibiotics and pleasingly made it to her wedding in 5 weeks time feeling well and with a pleasing breast reconstruction (Figure 5).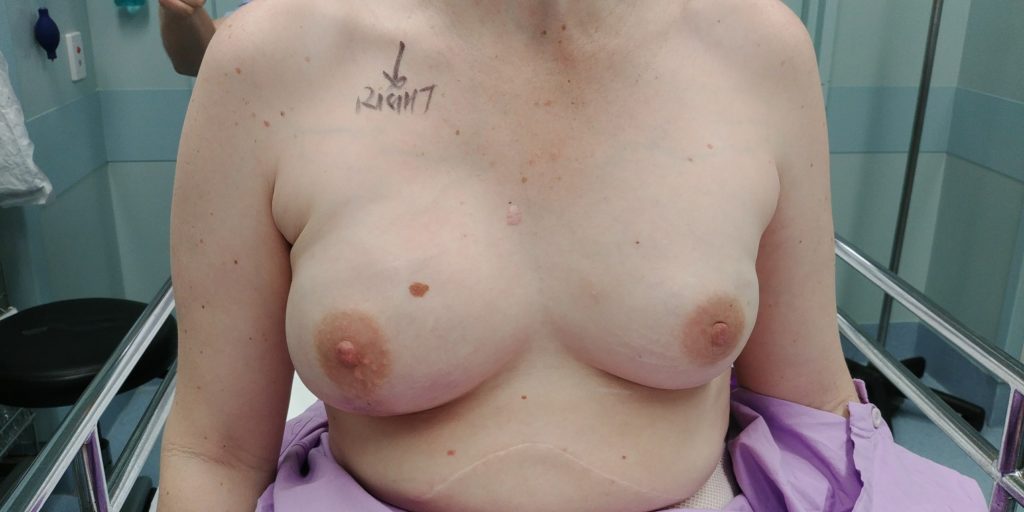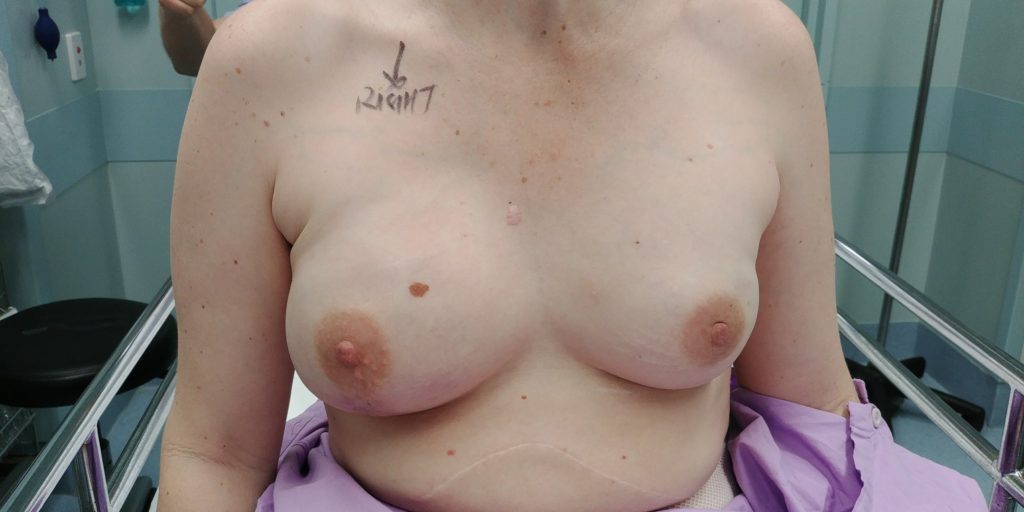 Four months later, the right-sided tissue expander was exchanged for a 420cc Mentor CPG 322 breast implant (Figure 6).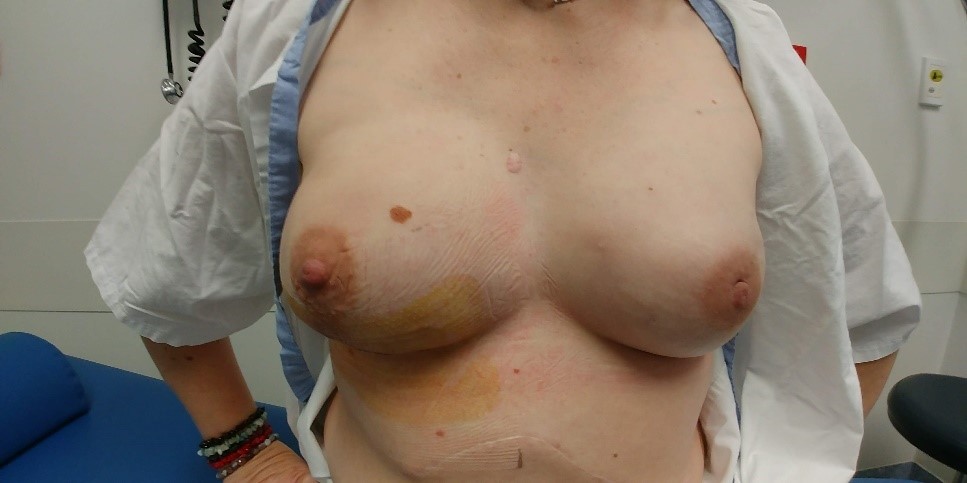 The use of Veraflo around a breast sizer as demonstrated in this case, enabled treatment of a peri-breast implant infection with maintenance of implant cavity. This allowed us to both treat the infection and to promptly reconstruct the breast such that the patient could attend her wedding with an expanded tissue expander in situ.
Conclusion
We describe a novel technique for the use of VAC Veraflo that effectively enables infection control whilst also preventing implant envelope contracture and thus allowing prompt breast reconstruction. This was especially important for this patient as she was able to attend her wedding with an aesthetically pleasing breast reconstruction despite complications of infection following implant-based breast reconstruction.
References
Pharoah PD, Guilford P, Caldas C, et al. Incidence of gastric cancer and breast cancer in CDH1 (E-cadherin) mutation carriers from hereditary diffuse gastric cancer families. Gastroenterology. 2001 Dec;121(6):1348-53.
The VAC Veraflo Therapy System for infected wounds. NICE National Institute for Health and Care Excellence. Sept 2019. https://www.nice.org.uk/advice/mib189/chapter/The-technology