Case Study
Abstract
This case study is to identify the appropriate use of Negative Pressure Wound Therapy (NPWT) for a patient who was identified as having Critical Limb Ischemia and underwent a lower limb amputation. It will show the best course of treatment for a deteriorating infected wound which resulted in graft removal and the final course of treatment necessary to prevent any further clinical deterioration. The results and discussion will identify any gaps that were noted when using the Standard NPWT against using NPWT with instillation of choice.
The choices of treatment were decided in collaboration between the patient and the treating medical and nursing professionals. Ensuring that the patient's psychological well-being is considered from a holistic aspect of patient care was paramount.
This case study demonstrated a positive outcome of using NPWT with Instillation to manage this complex wound and graft infection, that we believe, if this therapy was not initiated, would have resulted in a worse outcome.
Introduction
Critical limb ischemia is a morbid condition high amongst the elderly. Patients who display signs of critical limb ischemia (CLI) are classified as presenting with limb pain at rest and severe compromise of the blood flow to an affected limb which in turn may lead to limb loss (5). Patients displaying these signs if caught early in the treatment of peripheral arterial disease will be able to have the necessary treatments needed for revascularization of the affected limb. In some cases, the patients may require limb amputation as "CLI is considered the "end stage" of peripheral arterial disease (PAD)" (5).
Axilla bi-femoral bypass is one method of surgical revascularization used to treat patients with occlusive disease who have no endovascular option. Bypass patency rates are estimated to be between 40-80% at 5 years (1). Graft infections however are 0.5% to 6%.
One of the potential complications of this procedure is graft infection and thrombosis. In (6) 0.2% to 3% of cases, post operatively the patients are seen as having graft infections within an unspecified time frame. These patients can be displaying signs of infection from (3) "abdominal pain, overlying erythema to groin or extremities, induration, palpable fluid collection, purulence and /or pseudoaneurysm".  These patients are then treated with antibiotic therapy, in conjunction with graft removal, debridement and negative pressure wound therapy (NPWT) or negative pressure wound therapy with instillation (NPWTi).
This case study presents an unusual presentation of a female patient at forty-six years of age. Maggie (a pseudonym) has an extensive medical history including Uterine Cancer, hysterectomy, recurrent Deep Vein Thrombosis (DVTs), anal Squamous Cell Carcinoma with colostomy formation, cholecystectomy and a smoker. Previous multiple peripheral surgeries resulted in complications of her femoral femoral bypass graft thrombosing which required additional revascularisations. Maggie presented to the hospital with increase pain, coldness, pulselessness, pallor and paraesthesia of her right lower limb.
Point of care ultrasound showed complete femoral occlusion. Maggie declined an emergency operation and was commenced on patient-controlled analgesia (PCA) to manage her pain and she was closely monitored for 48 hours. However, she had right below knee amputation the following day with poor wound healing and skin necrosis evident within 24 hours post operation. Suture line was dressed with antimicrobial for three days, however wound dehiscence increased from 1.5cm to 4cm in length.  Additional pain management included Opioid PCA which was transitioned to oral analgesia and Opioids. Non-adhesive foam dressing with ibuprofen (0.5mg/cm2) was also prescribed as a topical pain dressing for 2 weeks.  Tissue necrosis increased to the right stump requiring further wound debridement however an above knee amputation was necessary to contain further tissue necrosis. (Fig 1 A)
Hyperbaric therapy is also known to treat other medical conditions include wound healing; however, this was not an option due to Maggie's poor perfusion and lack of oxygen supply to the peripheries.
Further wound debridement resulted in a large wound cavity and was managed with Super-Oxidised Solution (SOS) hydrogel impregnated in tulle gras for nine days. The goal was to autolytically debride devitalised tissue that covered 100% of the wound bed. (Fig. 1 B)
Larvae Therapy for wound healing was also used to assist removal of devitalized tissues. These Larvae are place on the wound for 48 -72 hours to allow time for them to ingest slough or devitalized tissues. Two therapy sessions or more are usually required to ensure wound bed are cleaned, however, an Epidural anaesthesia was required to manage her pain for the second therapy.
During the second session of larvae therapy, Maggie had increased pain, erythema and oedema to the right hip and groin area. CT scan of the abdomen and pelvis found that the right distal iliac stent and the axilla femoral bypass site was occluded with signs of infection. Intravenous antibiotics was commenced, however, on day 3 with no signs of improvement, it was necessary for surgical intervention to explore internally, which resulted in a partial graft removal at the mid to distal axilla femoral graft. The discarded distal grafts was cultured and the results showed growth of multiple organisms including providencia sturatii, Corynebacterium amycolatum, morganella morganii and the proximal graft infection was Corynebacterium species. Further stump debridement was performed to remove the remaining devitalized tissue and was dressed with Cadexomer and tulle gras to provide continual topical antimicrobial cover. (Fig 2)
Despite topical antimicrobial dressings for the next 7 days, sloughy tissues were noted to have increased and NPWTi with Polyhexamethylene Biguanide solution (Prontosan) was initiated.
The application of the NPWTi, in either continuous or intermittent pressure therapy, will promote wound granulation, remove excess wound exudate, reduce oedema, and wound size by contracting the wound edges inwards, whilst using an antimicrobial solution to break down the biofilm (7). It is recommended that NPWT be changed three times a week (8), though only changed twice a week for Maggie due to her low pain tolerance.
Methods
Veraflo Cleanse ChoiceTM dressing was used to promote wound cleansing by breaking down sloughy tissues and facilitate removal of exudate and other infectious materials that were evident in Maggie's wound (Fig 3 a, b). Due to wound size, ((L) 14cm x (W) 9cm x (D) 4cm), the fill assist feature set the amount of instillation volume of 16mls to dwell for 10 minutes  every 3.5 hours at 125mmHg negative pressure cycle.
Only one application of Veraflo Cleanse ChoiceTM   dressing was applied and then changed to V.A.C Veraflo DressingTM because of a significant reduction of slough and > 50% increase in granulation tissue.   V.A.C Veraflo DressingTM therapy was applied for 2 more weeks which showed a further improvement in wound healing. After that time, we transitioned it to an ActivacTM with Standard Granufoam with an interface layer (tulle gras).
Conservative sharp wound debridement (CSWD) was performed to further assist removal of devitalized tissue at each dressing changes (Fig 4)
However, moderate amount of slough began to form again and was transitioned back to V.A.C Veraflo DressingTM.
Results
It was noted after only one application of using Veraflo Cleanse ChoiceTM, the wound bed had increased granulation tissue and reduced slough compared to using hydrogels and larvae therapy in the previous two weeks. There was significant reduction in pain, erythema and oedema. The inflammatory markers at the time of infection showed her white cell count to be 13.9 →12.1, the C – reactive protein to be 128.5 → 60.5, all these numbers decreased.  Whilst the wound size remained the same, wound depth reduced by 50% from 4cm to 2cm. (Fig 5a, b, c).
After one week of Activac therapy, the wound bed had an increase of sloughy tissues, and Veraflo was re-initiated. Clinical signs of increase slough without NPWTi indicated that it was important to cleanse the wound regularly whilst promoting granulation and continual management with using NPWTi will provide optimal wound healing in this case.
Wound size reduction was (L) 12.5cm, (W) 8cm, (D) 1cm (Fig 6 a, b, c) and the repeated wound swab, post 4 weeks of Veraflo therapy, showed no growth.
Maggie is now more mobile in her wheelchair and mental wellbeing improved.
Discussion
In this case study, clinical indications showed significant reduction of slough, infective material and wound depth after one week of initiating NPWTi with Cleanse ChoiceTM compared to using conventional hydrogen and antimicrobial dressings for two weeks and Larval therapy with minimal improvement.
NPWTi was also comparable when we switched to normal ActivacTM therapy.  Wound slough decreased again after transitioning back to VerafloTM therapy.
We believe that using NPWTi in conjunction with systemic antibiotics improved patient's outcome better than conventional dressings in this incident. Question could be asked is could NPWTi have been initiated immediately after lower limb amputation to increase wound healing and improve mental status. Given Maggie's pain issues and infected graft, this was unable to be initiated earlier until her infective graft was removed and pain was better controlled. However, could NPWTi have been initiated once the graft was removed be a better management option to avoid serial surgical debridement and hence reduced her length of stay in hospital.
Currently, Maggie's wound continues to improve with NPWTi with the aim to provide a clean granulation wound bed for skin graft in the near future. (Fig 7)
Conclusion
CLI is considered an older person disease, though there are exceptions, as it is evidence in this case study of Maggie's age. Her complex situation with graft thrombosis and graft infection resulted in a partial graft removal and a major amputation, left Maggie with a large open stump wound. Pain management issues also had a significant impact of her mental health.
The medical and nursing team collaborated with the patient at each step of her treatment and although, NPWTi was not the first choice of wound management, other therapy and conventional dressings were adequate as the first line of management.
Veraflo Cleanse ChoiceTM is effective to reduce slough and cleanse the wound, though at times CSWD was necessary. Even using the standard ActiVACTM with black GranufoamTM, slough build up again and that it was beneficial to transition back to VerafloTM with instillationTM as the better choice of treatment.
In conclusion, NPWTi with Cleanse Choice, in conjunction with CSWD, significantly improved her wound status after one week of therapy.
REFERENCES:
Emedicine.medscape.com/axillofemoral bypass, Cheong jun lee, MD; Chief Editor: Vincent Lopez Rowe, MD, August 14, 2018.
http://onlinelibrary.wiley.com/doi/abs/10.1111/iwj.12110/ vacuum-assisted closure therapy for vascular graft infection (szilagyi grade III) in the groin- a 10year multi centre experience
Kilic A, Arnaoutakis D, Reifsynder T, Black III J, Abularrage C, Perler B and Lum Y, Management of infected vascular grafts, 2016 Vol. 21 (I) 53-60, Vascular medicine.
http://reference.medscape.com/viewarticle/916168/Chronic Limb threatening ischemia clinical practice guidelines, 2019.
Varu V, Hogg M and Kibbe M, Critical Limb Ischemia, doi:10.1016/j.jvs.2009.08.073, Journal of vascular surgery
http://dxdoi.org/10.1016/j.jvs.2015.08.092. Outcomes of unilateral graft limb excision for infected aortobifemoral graft limb.
https://www.woundcarecenters.org/article/wound-therapies/negative-pressure-wound-therapy
Figure 1 a prior to debridement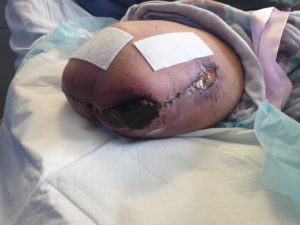 Figure 1b  -After larvae therapy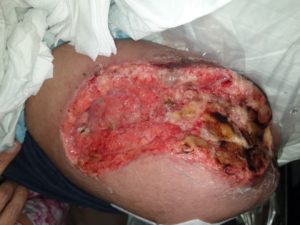 Figure 2- Managed with Cadexomer and tulle gras to provide continual topical antimicrobial cover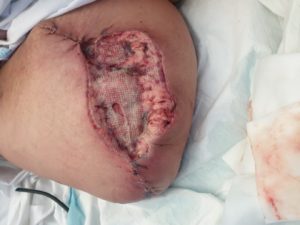 Figure 3 a – After 1st application of cleanse choice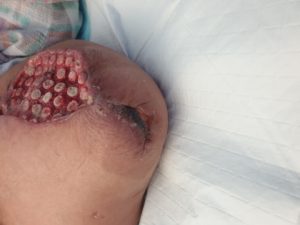 Figure 3 b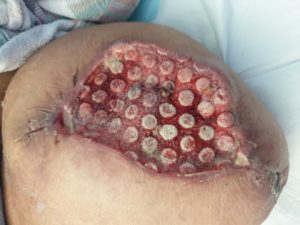 Figure 4 -Before CSWD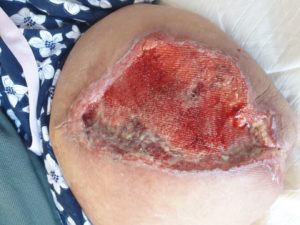 Figure 4 b – After CSWD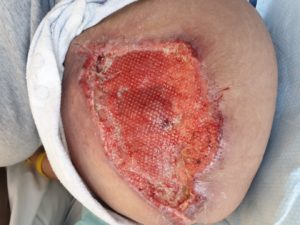 Figure 5 A- Measurements of wound width 9cm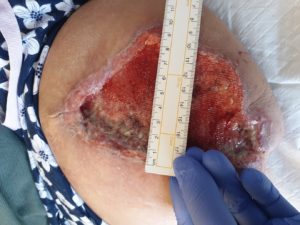 Figure 5B  Measurement of wound length 14cm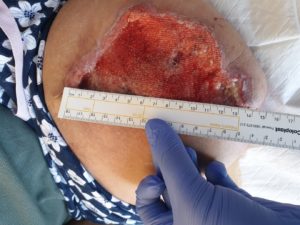 Figure 5 C- Measurement of wound depth  2cm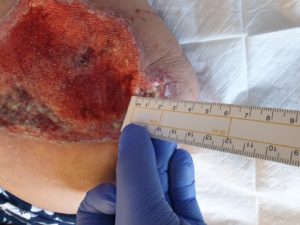 Figure 6 A- Final measurement depth 1cm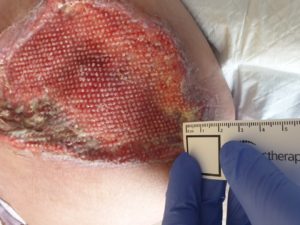 Figure 6 b- width 8cm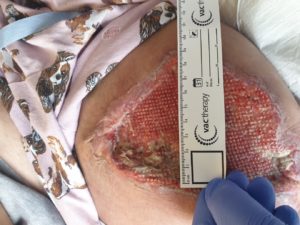 Figure 6 C- length 13cm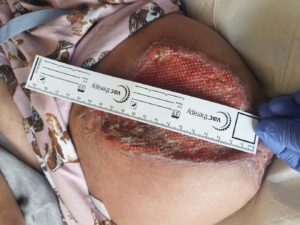 Figure 7- Final picture of wound