Case Study
Published: 4th December 2019
Author(s): Chris Paton, Alison Sims & Leanne Gane
Case Study:
This case study followed the care and treatment of a 61 year old patient who was admitted due to probable / possible sepsis, attributed to lower leg ulceration. The patient had a past medical history of Type 2 Diabetes with Diabetic Retinopathy, significant Cardiac Hypertension, extensive Left Subclavian Deep Vein Thrombosis, Bilateral Non-Occlusive Pulmonary Emboli, previous Cardiac Arrest following General Anaesthetic, Non-ST-Elevation Myocardial Infarction and Heart Failure.  Wound swabs showed colonization of MRSA, Multi-Resistant Pseudomonas and Candidemia. On initial assessment a diagnosis was given of Gangrenosum but was later confirmed as Non-Uremic Calciphylaxis.
Calciphylaxis is a rare and serious condition that is characterised by the development of non-healing skin ulcerations secondary to arterial calcification and thrombosis [1], usually in the thighs and buttocks. The vascular calcification in Calciphylaxis results in ischemic skin that are intensely painful, treatment resistant and predisposed to bacterial infections [2]. Calciphylaxis is typically diagnosed in end stage kidney disease (ESKD)[1]. In this case the patient was not suffering from ESKD so a diagnosis of Non-Uremic Calciphylaxis was made. This is a rarer condition than Calciphylaxis with uncertain pathophysiology [1] and a high mortality rate of between 52% and 81%, with the main cause attributed to sepsis [3]. At the point of assessment by the Tissue Viability Team the patient was over a year since development of ulceration.
The patient's ulcers covered approximately 75% of the lower leg and presented with 100% slough coverage, high levels of exudate, were extremely painful and infected.  Initial progress was made using larval therapy to debride slough whilst the patient had antibiotic treatment for the infection.  After 4 courses of larvae therapy progress appeared to stall and the exudate level was overwhelming the larvae. A below knee amputation was ruled out due to the patient's medical history and inability to survive general anaesthesia. At this point ward based debridement using Negative Pressure Wound Therapy with Instil and Dwell (NPWTi-d) was commenced.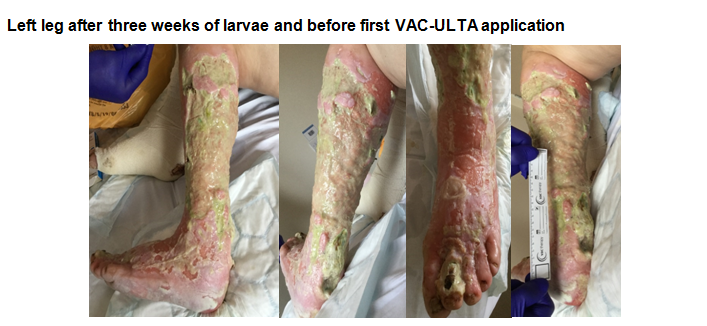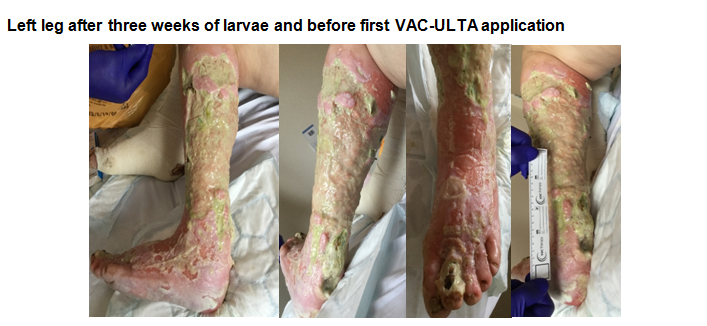 Prior to starting NPWTi-d, pain and the patient's tolerance had to be considered. Previously simple dressing changes had been undertaken with Entonox in addition to regular analgesia.  After discussions with Pharmacy and Plastics Consultant a normal saline wash with Local Anaesthetic infusion was agreed to be given through the VEROFLO VAC system. This gave the benefit of regular pain relief directly to the wound bed. The dose of Local Anaesthetic and the instil volume given was calculated so the maximum dose over 24 hours was given based on patient weight.
VAC settings – 125 mmHg, 5 hours cycle 200ml of fluid with a 5 minute dwell time (1000ml bag in 24 hours).
 V.A.C VERAFLO cleanse choice dressing was applied to the ulceration to debride slough from the wound bed. The Instil pad of the Vera T.R.A.C Duo tube set was situated at the proximal end of the dressing, with two SensaT.R.A.C pads (via a "Y" connector) situated at the forefoot and heel. This allowed for adequate distribution of fluid to the wounds and assisted in achieving a good seal.
The ability to use the wound soak function on the V.A.C-ULTA also made dressing changes less traumatic by lifting the foam from the wound bed.
Dressing changes were carried out initially using Entonox coupled with PRN Oxynorm but was not tolerated.  After seeking advice from the Anaesthetic Department, a Methoxyflurane inhaler was adopted to great effect.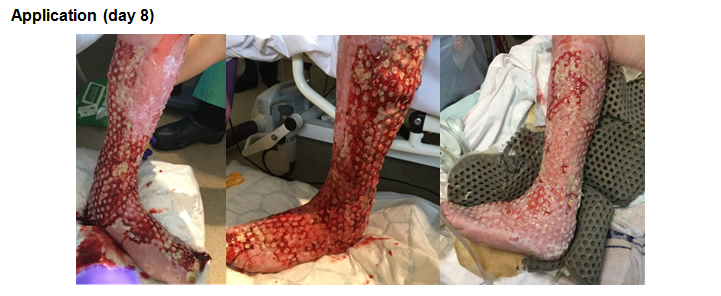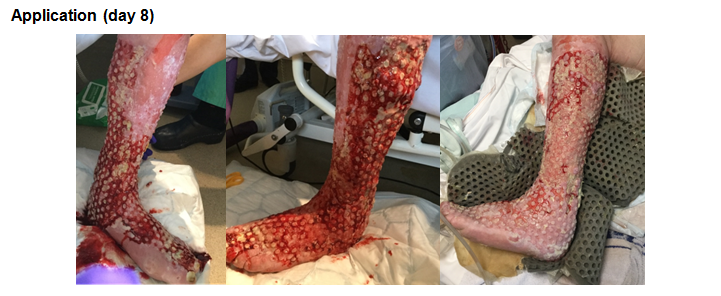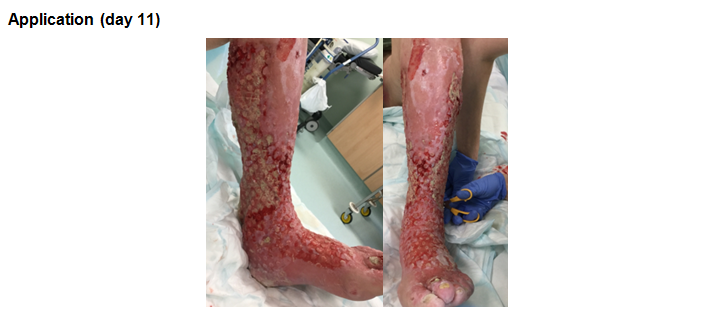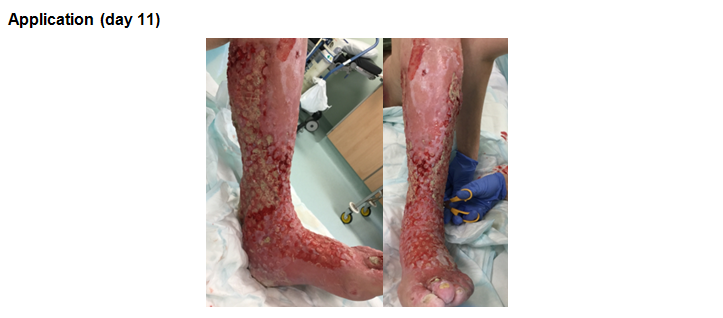 Once debridement had been achieved, V.A.C VERAFLO cleanse choice dressing was discontinued and V.A.C VERAFLO dressing was commenced. This aided in keeping the ulceration clean and dry. This also assisted in flattening the wound bed prior to grafting.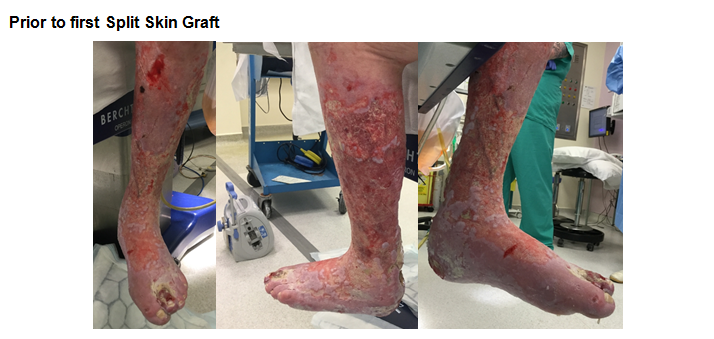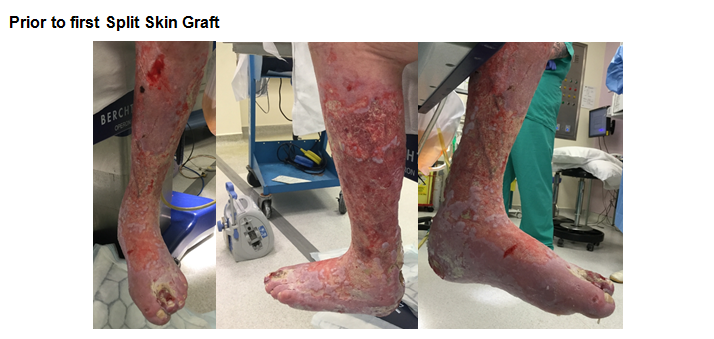 First skin graft to upper outer aspect of lower leg was 100% take. The graft was secured using VAC GRANUFOAM. Instil was discontinued with the remainder of the leg to be grafted at the next dressing change. The patient reported a significant reduction in pain which had led to an increase in appetite and the ability to commence Physiotherapy and was achieving a full night's sleep for the first time in six months.


It is the authors' opinion that the application of V.A.C, coupled with infusion of Local Anaesthetic ultimately led to the drastic improvement of the patient's condition. The chances of sepsis occurring had been dramatically reduced, quality of life had also been increased and life expectancy potentially extended.
References:
 Gomes F, La Feria P, Costa C, Santos, R. Non-uremic Calciphylaxis: a rare diagnosis with limited therapeutic strategies. EJCRIM 2018; 5 doi: 10.12890/2018_000986.
Sammour Y, Saleh H, Gad M, Healey B Piliang M. Non-uremic Calciphylaxis associated with alcoholic hepatitis: A case report. World Journal of Hepatology. 2019; 11(1). Doi 10.4254/wjh.v11.i1.127
Truong D, Riedhammer, M, Zinszer K. Non-ureamic caliphylaxis successfully treated with pamidronate infusion. International Wound Journal 2018 (Vol 16, Issue 1). Doi:10.1111/iwj.13019