Case Study
A 63 year old female presenting with a hard-to-heal polymicrobial chronic wound on the right lateral leg.  Previous history of bilateral forefoot amputations. Patient has had a history of chronic venous ulceration for the last 7 years and developed the new ulcer after falling at home with subsequent haematoma formation and necrosis 3 months ago.  Wound bed showed clinical signs of infection with slough and undermining present. Wound Swab were positive for Staphylococcus Aureus, Klebsiela Pneumoniae, Streptococcus Group A.  Patient was already on oral antibiotics for the last month for various organisms with poor effect.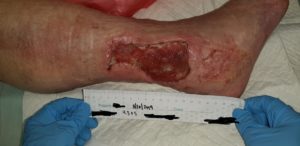 Figure 1 : Wound bed before application of VAC veraflo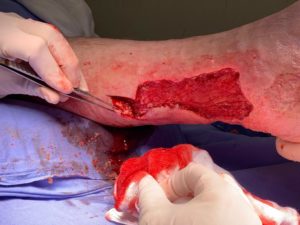 10 October 2019 Patient was admitted to theatre for debridement and application of VAC Veraflo with Prontosan irrigation solution.  The wound underwent a washout with Hypochlorous acid and debridement followed by the application of VAC Veraflo therapy with VAC foam dressing and Polyhexamide betaine wound irrigation solution, NWPT @-125mmHg instillation at 20ml for 15minutes every 3 hours.  Intravenous antibiotics was initiated and continued for 10 days.  
Figure 2 10 October 2019 Debridement in theater
VAC Veraflo dressings were changed on 13 & 15 October 2019 while the patient was in the ward and still receiving intravenous antibiotic therapy.  (Figure 3).  Patient\'s pain levels decreased from 7/10 to 2/10 post VAC Veraflo instillation therapy. Patient was taken back to theatre on the 17th of October 2019 for further debridement and skin grafting after 7 days of VAC Veraflo instillation therapy and 2 dressing changes.
Venestrated full thickness skin graft was applied on the wound bed.  Skin graft was bolstered with a non-adherent silicone contact layer and VAC therapy at -75mmHg.  
Wound was completely healed after 25 days.  Patient was able to walk with ease and wears compression stockings to control the veno-lymphoedema.  Patient only stayed in hospital for 12 days of which 7 days were with VAC Veraflo instill therapy and 5 days with VAC therapy.  After discharge from hospital patient was followed up on a weekly basis for 1 month post-operatively.  
The use of the VAC Veraflo instillation decreased the necessity for several debridements in theatre in order to decrease the bioload and skin grafting was possible after 7 days of instillation therapy.  The skin graft took completely with no breakdown and wound was healed in 25 days versus the >90 days before utilizing the therapy.  Due to restrictions with regards to hospital stay allowed by the patients medical aid we had one chance to change the status quo.  The patient\'s prior longstanding chronic wound history of 7 years for other similar ulcers also added to the complex nature of this case.  Quality of life improved immediately after discharge from hospital and the patient was able to get back to work in 21 days after initial debridement.