Case Study
Abstract:
There are several published studies on the benefits of NPWTi and in our unit we routinely use NPWT with either gauze or sponge as the interface. What has been noticed as with the increased use of NPWT there is a build-up of slough over time in specific wounds, diabetic foot ulcerations post-operative femoral bypass infections and groin infections post-surgical intervention. The aim was to trial the NPWTi on a cohort of patient's who would otherwise need repeated trips to theatre or were unable to go to theatre due to co-morbidities. The aim was to see if there was an impact in the management acceleration in healing, decrease in MOT time, bed days and pain management. Before making a clinical change, it is important evaluate the effectiveness with the patients that it will be ultimately used on. This is a case series of 3 vascular patient's that have been under vascular service with a background understanding of the literature so far on the NPWTi and cleanse choice sponge. T
Background:
Surgical site wound infections and subsequent vascular infections near or in graft sites are considered a very serious complication. In patients with groin infections that include the graft the mortality rates are reported as high as 52%- 58%  (Lakhiani, 2019). Understanding how new technology can add value to the management of complex wounds on patient's with multiple co-morbidities that limits the surgical options available to them means as clinicians we need to evaluate these options and critically analyse whether they will add / improve in this case complex wound care management. New technology can be expensive and rushing into new technology is often done at the expense of an already stretched health care system. With this in mind our unit embarked on a clinical trial of the KCI VAC UltraTM  instillation system with Veroflo CleanseTM dressing.
The use of Negative pressure wound therapy with intermittent instillation of fluid (NPWTi) has been around for more than 15 years had recent case reports now demonstrating how the use of antibiotic therapy being can be donated directly by the UltraTM  instillation system to  an infected graft this may mean treatment options may not necessarily involve further complex bypass surgery, once the infected graft has been identified. In the following case studies presented they all had serious post-operative infections and by using the NPWTi for the management of complex wound care in these cases no complex repeated surgery and the wounds could progress. Although NPWTi has been around for 15 years but not routinely used until the updated system was released in 2011 the VAC UltraTM  instillation system in America and released in 2013 in New Zealand. (Kim P. A., 2015) reported in a retrospective study that compared normal saline and polyhexanide—betadine solutions in 142 chronically infected hospital patients with lower leg ulcers and found those receiving antiseptic solution had less visits to theatre and reduced hospital stay.  There was no difference in the outcome of the solutions but noted shorter treatment times compared with standard VAC therapy.
 There is growing body of research on NPWTi and the management of complex wounds especially within specialities such as plastics and management of diabetic foot ulcerations. There however very little on infected groin wounds post complex vascular surgery. The release of one case report by Lakhiani et al (2019) where they used rifampin as the instill fluid on a 78 year old who had and infected infrainguinal arterial bypass prosthetic graft demonstrated a rather innovative approach to managing these complex vascular cases. The need for further research and evidence is evident to help build a body of clinical evidence for change and clinical guidelines for when to use the NPWTi veroflow as an option in wound management. In particular the open cell sponge that has helped to again improve the healing rates of difficult to heal wounds.
After searching 2013-June 2019  using negative wound therapy using words to ensure that the current research is accessed "NPWTi therapy units and open-cell foam dressing"  the articles found  and reviewed of those looking at vascular complications and NPWTi there were no randomised controlled studies and there were however expert panel recommendation put together by (Kim P. A., 2015).
The changes that have happened are the machine has been upgraded in 2011 and the foam has also changed from GranuFoamTM to an open that are polyurethane ester foam dressing that less hydrophobic than the traditional VAC foams. The bigger holes on the contact layer allow for more contact with the solution on to the wound bed and therefore more effectively washing the wound bed.
Kim et al (2015) also recommend that NPWTi is appropriate in certain clinical situations that included antibiotic use and wound management and these include:
Wounds that require "second look" surgery
Wounds that cannot be closed easily
Severe traumatic wounds
Wounds complicated by infection or severe biofilm
Wounds where traditional NPWT have stalled
Diabetic foot ulcerations
Exposed or infected bone
Ischemic wound beds
Necrotizing fasciitis Kim P. A., 2015.
Conditions where the use of NPWTi is not recommended as per manufacturers recommendations:
Untreated osteomyelitis, necrotic tissue with eschar present
Non-enteric fistula
Wound with malignancy '
Exposed blood vessels, anastomotic sites, organs or nerves
Uses in thoracic cavities
Unstable structures flaps or grafts
Patients at risk of bleeding. 
Case 1:
Introduction:
A 79-year-old Male who presented acutely for groin infection and haemorrhage one month post original surgery. 
History of presenting illness:
Acute admission for femoral endartectomy patch haemorrhage he had been discharged from vascular services 17 days post right femoral endarterectomy and patch. Day 11 post-op felt generally unwell) was tired and nauseated.  Daughter reported lots of clear fluid coming from wound. New onset of pain in groin at surgical site and started bleeding, possibly after lifting box of wood.   Blood loss, estimated by daughter/paramedics at 2-2.5 Litres.
Past medical history:
Right femoral endarterectomy for critical limb ischemia (with >75% stenosis of proximal superficial femoral artery and ulcer over medial aspect of right first metatarsophalangeal joint, Sep 2018), with  patch repair in October and angioplasty of distal external iliac to proximal superficial femoral artery and stent. Polymyalgia Rheumatica, on Prednisone, Type 2 DM with diabetic retinopathy and nephropathy, on Insulin and Metformin, Hypertension, Hyperlipidaemia, Gout  and GORD.
Social history:
Lives with wife (for whom he cares for), daughter and grandchildren, never smoked and no alcohol.
Clinical Progress:
Proceeded to theatre for right femoral artery exploration and repair of patch where one small point of bleeding was discovered to be covered by clot at lateral aspect of patch suture line. His post-operative recovery he felt generally unwell day two. He then experienced an increase in heartburn symptoms -that may have been cardiac symptoms mild elevation in cardiac enzymes. However, observations remained stable and there were no acute ECG changes, Basal crackles and JVP 5 cm and chest x-ray was clear, Hb dropped to 88 he was given two units of red blood cells. The wound looked unremarkable on the surface, abdomen non-tender no melena as bowels had not opened there seemed to be no clear source of the bleeding.  Proceeded to theatre for debridement of right groin and wound left open for secondary intention healing.  During theatre noted Skin necrosis, Ischaemic tissue excised down to healing tissue. Track extending to the bovine patch. Initial Post-op wound management was daily wound washouts with Betadine this was painful and however VAC therapy is contraindicated with exposed vessels it was hoped granulation would occur during this time. Once the vessel had been covered the introduction of the UltraTM instillation system using Veroflo CleanseTM dressing with Prontosan solution as the instillation was commenced. Cycles were initially started as Prontosan -20mls and cycle 3 ½ hours with dwell time 10 mins. Pain reduced significantly from 10/10 with betadine soaks to 0/10. Wound progressed very quickly however there was a post-op complication of  with fresh bleeding from wound site post-op day 6 he proceeded to diagnostic angiogram. There was no active extravasation at the site of the patch on angiogram- this could be due to the cleanse choice which controlled by compression. Decision was made for definite control with covered stent from distal external iliac into the proximal SFA.
Patient feedback: it is very comfortable Pain management was minimal once the cleanse choice was applied dressing change however with daily betadine soaks pain was 10/10.
Staff Feedback: Easy to use and apply reduces theatre time and improves the wound bed.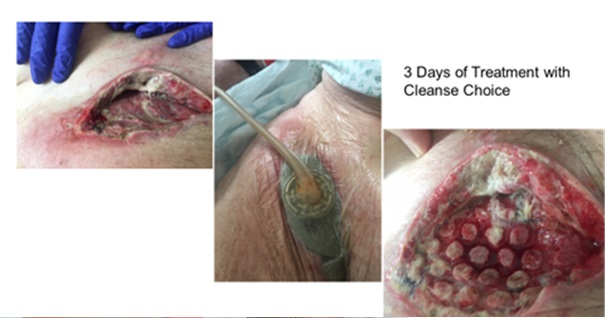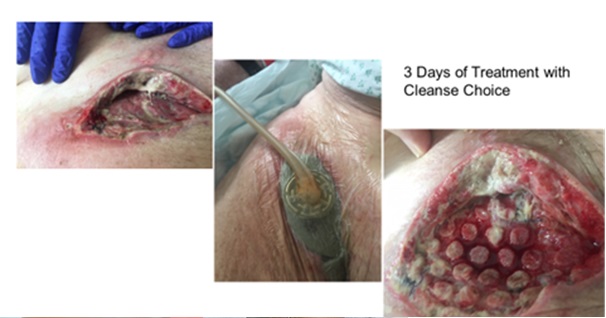 Case Two:
Introduction: 85 year old female admitted to vascular for poor wound healing, right groin, noted dehiscence of right groin wound with mild dehiscence of right medial thigh wound.
History of Presenting illness:
Recent discharge from vascular following fem-pop bypass 17th September 2019 after a failed angioplasty for right foot ischemia and critical limb ischemia because of a right femoral artery occlusion.
Past medical history:
IHD, HTN, Hyperlipidemia, Asthma, GORD, L) renal cyst , L) eye cataracts and urethral dilatation.
Social history:
Family currently trying to sell home and find independent unit in retirement village.
Clinical Progress:
BP 160/55 full examination was normal except for wound were erythema and tenderness over the groin area and medial leg wounds, wound swab – s staph aureus + pneumococcus. Tissue in the wound bed was necrotic and non-viable requiring surgical debridement which would have to done in theatre given the pain. It was decided to apply the cleanse choice to help clean up the wound bed that was 100% slough noted. To also avoid another anaesthetic for this patient. Pain management short acting oral morphine 45 mins before dressing change and use of nitrous gas during the procedure.
Taken before starting Cleanse choice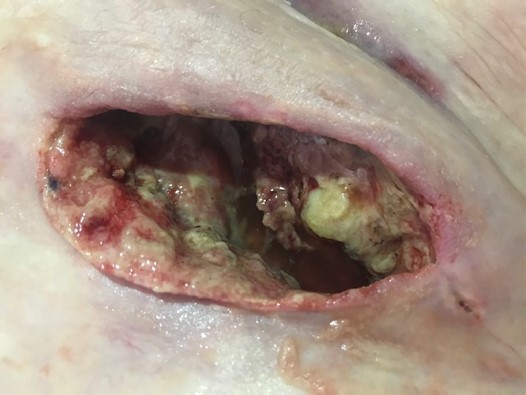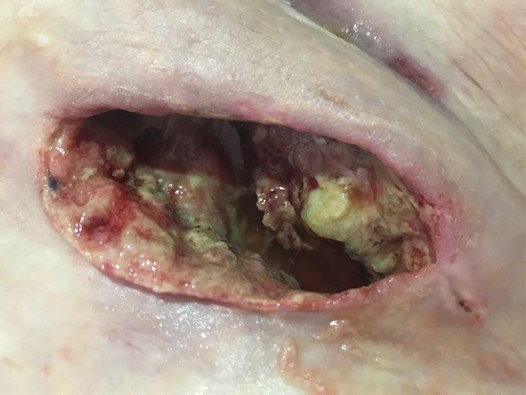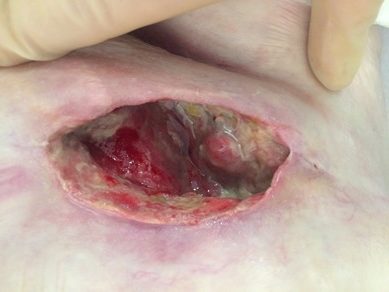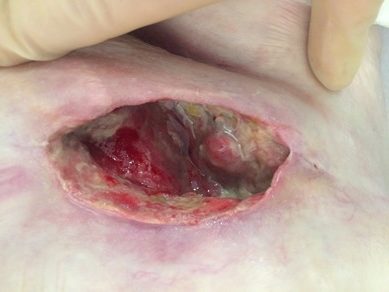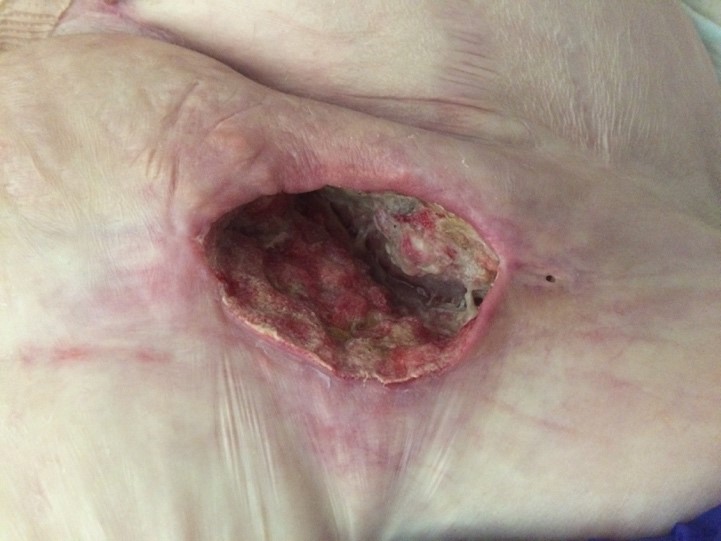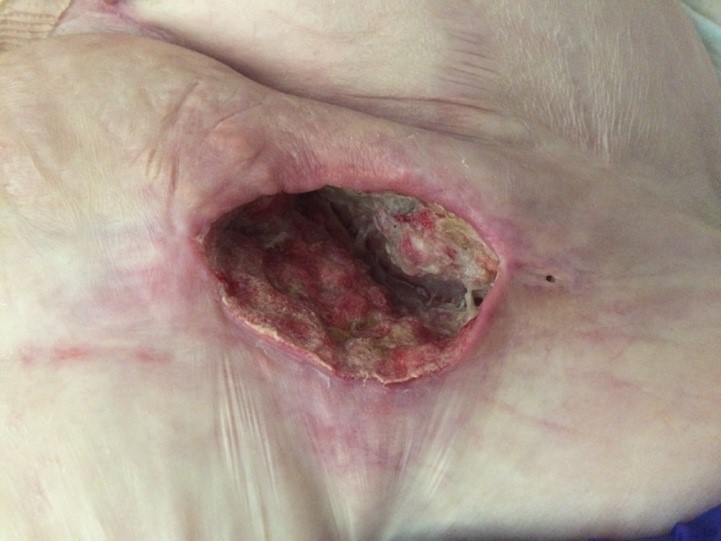 Case 3
Introduction: 46 year old female who has an extended hospital stay from bilateral diabetic foot sepsis leading to bilateral above knee amputations and stump wound infection bilaterally. Sepsis secondary to stump wound infection, Nephrotic syndrome secondary to diabetic nephropathy with hypoalbuminemia, Hyperkalemia, C.Difficule positive, Abdominal fat necrosis, Poorly controlled Type II diabetes with HbA1c 102 mmol/ml.
Past Medical History:
Presented initially with poorly controlled T2DM with retinopathy, neuropathy, nephropathy, Long admission to hospital in April 2019 with infected foot ulcers of left foot -> surgical debridement -> transmetatarsal amputation. Multiple attempts at improving distal flow with balloon angioplasty and localised catheter-directed thrombolysis, ultimately bilateral above knee amputations for critical limb ischemia, Hypertension: usual BP at least 170/80, Ischemic Heart Disease with diffuse Chronic arterial disease on angiography 2015 and inducible ischemia. Chronic Kidney Disease with baseline creatinine 90, Chronic anaemia, morbid obesity and ex0smoker 30 pack years.
Wound Management
Unable to debride surgically due to instability as the patient improved there was a need to then attempt to heal the stump wounds. They were also giving the patient a lot of pain at dressing changes with no improvement. This was delaying discharge to rehabilitation causing the patients and her family great distress. It was decided to use cleanse choice to help loosen the necrotic tissue to enable a viable wound bed.
Conclusion:
The use of NPWTi and cleanse choice sponge offers practitioners other options for what are very difficult wounds to heal and may require multiple trips to theatre. It is a comfortable and relatively pain free choice for complex patients. In the vascular department we see many complicated compromised wounds this is another form of wound management that we can offer. The next group of patients we would like to trial this on is chronic venous insufficiency to help create granulation especially in very fibrotic areas.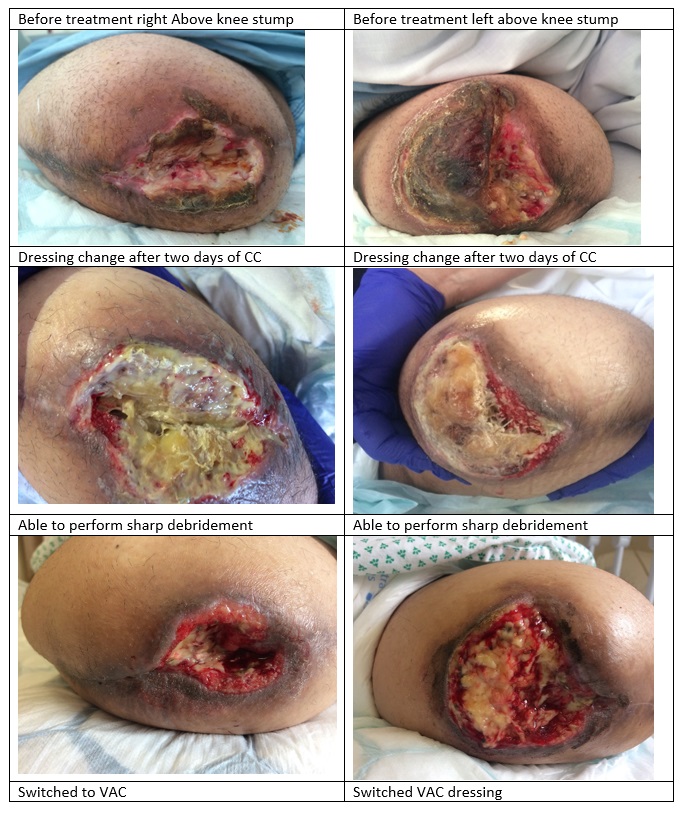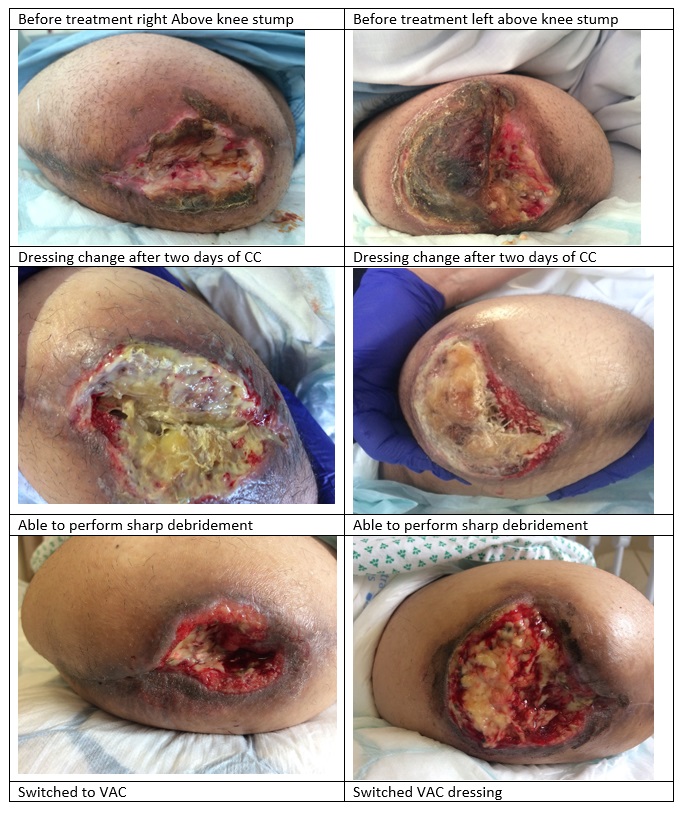 References
Kim, P. A. (2015). Comparision of outcomes for normal saline and an antiseptic solution for negative pressure wound therapy with instillation. Plastics reconstructive Surgery , 657-664.
Kim, P. A. (2015). Negative Pressure Wound Therapy with Instillation: Review of evidence and recommendations . Wounds , 1-19.
KIm, P. G. (2015). Negative Wound Therpay with instillation Review of teh Evidence adn Recommendations. Wounds 27, S2-S19.
Lakhiani, C. F. (2019). Negative pressure wound therpay with intermittent instillation of rifampin for the treatment of an infected vascular bypass graft. Journal of Vascular surgery Cases and innovative Techniques, 435-437.